As we all know, a good game is very important for a child, because it can not only bring a lot of joy to a child, but also help him or her grow better to a certain extent. Summer is the best time for outdoor activities, so it's time to take your child out of the house to play fun games outdoors. Nowadays, with the continuous development and progress of society, games are also constantly changing generations. Although it is really fun to play new games that keep pace with the times, playing traditional classic games can also make you and your child feel very interesting, and the cornhole game is a good example. Its history can be traced back to the 19th century, but it is still a great summer lawn game to this day. Play it is very relaxing and fun, so your child will like to play it, and you will also certainly like to play it.
Besides being very interesting, playing a cornhole game in the UK can also bring many benefits. Firstly, its rules are easy to follow, and your child can be able to fully master them in a short time. Secondly, it can be played anywhere. You and your child can play it at home, but also in the backyard or near the home lawn, park and other places to play it. Thirdly, it can help child grow up better and enhance parent-child relationship. In the process of playing it, your child's various abilities can be exercised and the interaction between you and your child can be well promoted. Finally, it is good for health, because playing it can relax the body and mind and eliminate negative emotions. Corn toss game is a great game, but have you ever thought of making a simple one yourself? It's not difficult to make it, and it doesn't cost you a lot of money and effort. In the following article, I will tell you how to make it in detail.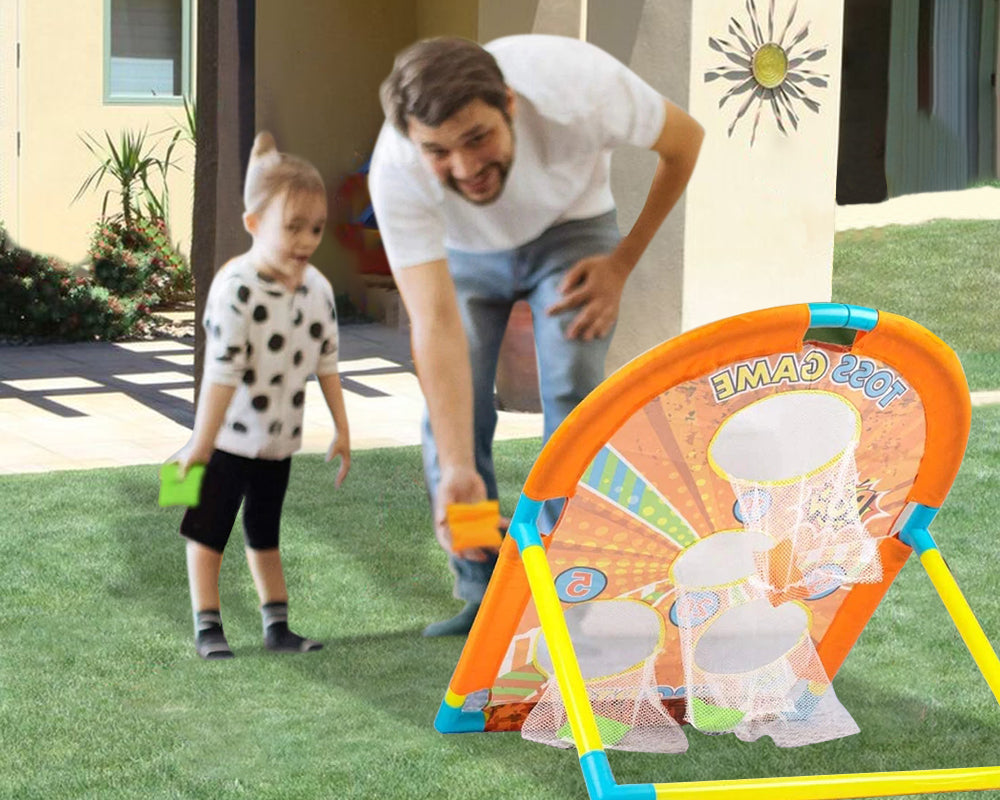 How to make a cornhole board?
Cornhole board is the main body of bean bag toss game. When you hear cornhole board, you may think it is difficult to make. But in fact, making it is much simpler than you think. You only need to prepare a bigger cardboard box, a compass, a utility knife, a hot glue gun or adhesive tape, paint and colored pens. First, seal one side of the opening of the big cardboard box you have prepared with adhesive tape or hot glue gun. Secondly, draw some lines on the cardboard box. Draw a line 10 inches down from the top of one side of the cardboard box and a line 3-3/4 inches down from the top on the other side of the cardboard box (you can refer to this data, or you can modify the size to the one you think is most suitable according to the actual situation). And draw a circle on the middle, top, bottom left and bottom right of the top of the cardboard box with a compass and mark the corresponding score of each circle. Thirdly, use a utility knife to cut along the lines drawing position of the cardboard box, and carefully cut out four circular openings. Fourthly, using the leftover cardboard, and cut out four strips about 10 inches wide by 10 inches high. Then bend them into circles and slide them into the openings of the four circles. Cut off the excess part, and fix the rest in place with hot glue gun or adhesive tape. Finally, use paint and colored pens to doodle on the finished cornhole board, and you can make any design according to your and your child's preferences.
How to make bean bags?
We all know that when playing cornhole game, besides using a cornhole board, bean bags are also essential. Compared with making a cornhole board, bean bags are easier to make. You only need to prepare two colors of cloth, some corn beans or sand, thread, a sewing machine and a pair of scissors. First, fold the cloth of two colors in half, and measure and cut out three squares of 6 inches long by 6 inches wide from each on the cloth of two colors. Secondly, sew the three sides of the cut six squares together to form six bags. Thirdly, turn these bags over and fill them with corn beans or sand. Finally, sew up the last sides of the six bags.
The above is the way to make a simple cornhole game. It's not difficult at all, is it? But if you still end up unsuccessful or do not achieve your satisfaction results, you can also choose to buy an inexpensive corn toss game set on our armadadeals website, which will surely satisfy you and your child.